News: Added support for KPA500, KAT500, and new Elecraft K3S, KX2 transceiver. s

What is the K3 Reader?
The HAMPod K3 Reader has been specifically designed to work with the Elecraft K3S, K3 KX2, and KX3 transceivers to provide as much capability and accessibility to these radios as possible. With the K3 Reader you will have access to the "MENU/CONFIG" menus of the K3/K3S/KX3/KX2 and be able to read the various display elements and use your transceiver with a high degree of capability. All without the need for a connected station computer or help from a fellow ham or long-suffering partner!

There are several options that determine how the K3 Reader performs and interacts with your Elecraft and all options are stored in EEPROM and retain their settings when powered off. The K3 reader can be set to automatically report changes as you operate your Elecraft or can be configured to be silent and only report information when requested by you with a key press on the K3 Readers 16 button keypad. The keypad is used to configure the K3 Reader and to request information from the transceiver as well as to perform direct frequency entry more quickly and efficiently.

The K3 Reader is supplied with a 6 foot serial cable, 9 volt DC wall power supply and a null modem cable adapter to connect to a PC for flash updrades. Please download and read through the manual from the link below for more details and see just how much the HamPod K3 Reader does for K2/K3/K3S/KX3 and KX2 accessibility.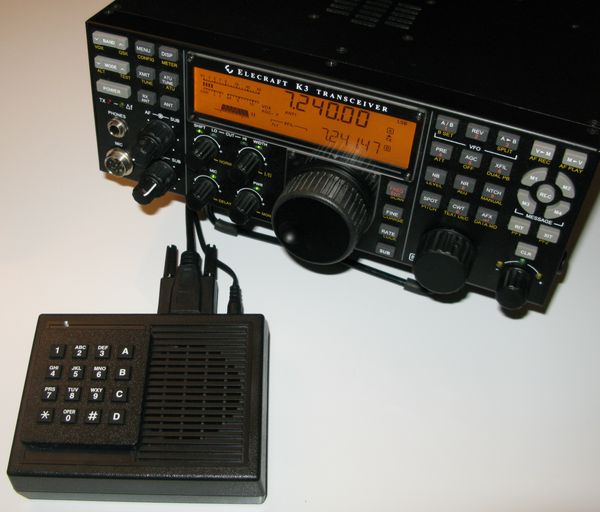 HamPod K3 Reader connected to K3 transceiver
HamPod K3 Reader Hardware Description
The rear of the HamPod K3 Reader has two male DB9 serial ports and a DC power jack. The firmware is upgradable in the field through one of these ports by connecting to a computer to flash the firmware in the HamPod when an upgrade is available. With the K3 Reader, you can connect two Elecraft transceivers or optionally, connect one radio and a different piece of supported equipment to the serial ports and switch between them by using the keypad. The power jack accepts 9 to 12 volts dc and has a positive center pin and can be powered with the supplied wall wart or connected to your 12 volt DC shack power distribution system. There is a 16 button keypad on the top of the unit on the left side and the speaker grill is on the right. The dimensions are 5.3" x 4.0" x 1.5" plus about 3/8" of additional height for the keypad
Downloads:

Contact: Info at HAMPod.com